Rhône winemakers Olivier, Marie and Quentin In La Baume-de-Transit (26 Drôme, ARA) have extended their passion for wine by offering a couple of guesthouses and rural holiday homes at their Rhone B&B Domaine Saint Luc.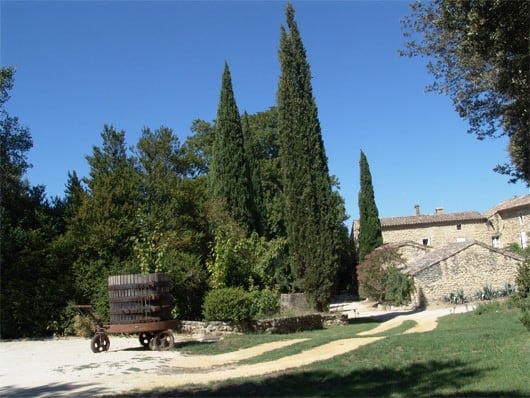 Set in a stone farmhouse, Domaine Saint Luc provides B&B accommodation with
an outdoor swimming pool, a hot tub and free WiFi access . All rooms have a private bathroom and offer views of the surrounding vineyards and lavender fields. Some have access to a furnished garden terrace, and a free, welcome bottle of the domaine's wine is provided on arrival. A daily buffet breakfast is provided .
Nearby are picturesque villages and vineyards, with opportunities to taste the local wine. The domaine is only a 12 miles /20 kilometres from the Ardèche River offering great opportunities for outdoor sports. – both red and white wines are produced.
---
Here the wine is designated a PDO (Protected designation of origin) for Grignan-les-Adhémar, Coteaux du Tricastin and Côtes du Rhône Villages. These names may be less familiar but conform to the predominant style of Rhone valley wines. Ref, white and rosé wines are produced, including a bend of Syrah and Viognier grapes which is a feature of some of the top northern Rhône wines.
For more information and to check availability at this Rhone B&B see Domaine Saint Luc.
Hire a car through Rentalcars.com
By High Speed Train TGV via Avignon
Nearest Airport: Marseille MRS (130 km /80 miles)
Following the grape harvest, the grapes are prepared for crushing. To avoid hard tannins getting into the wines, the grapes are de-stalked, and any debris is removed. Once this is completed, the traditional wine-making procedures can begin.

For the red wine, the fermentation – a crucial step – takes place after eight to 20 days of settling. It is only by experienced tasting that the right moment can be chosen for this step to begin. For the white and rosé wines, the grapes are crushed on arrival at the winery; the grape must is then kept at a low temperature to preserve all the subtle flavours.

The wine is then stored in barrels to age, to mature, and, by doing so, give to the wine the delicate flavours and tastes of the soil and grape. The time allowed for ageing will depend on the particular needs and characteristics of each wine.

Bottling the wine at the Domaine ensures that all the efforts put into producing our fine wines is continued to the last moment. (Rhone B&B Domaine Saint Luc)